Astronomy (Bachelor)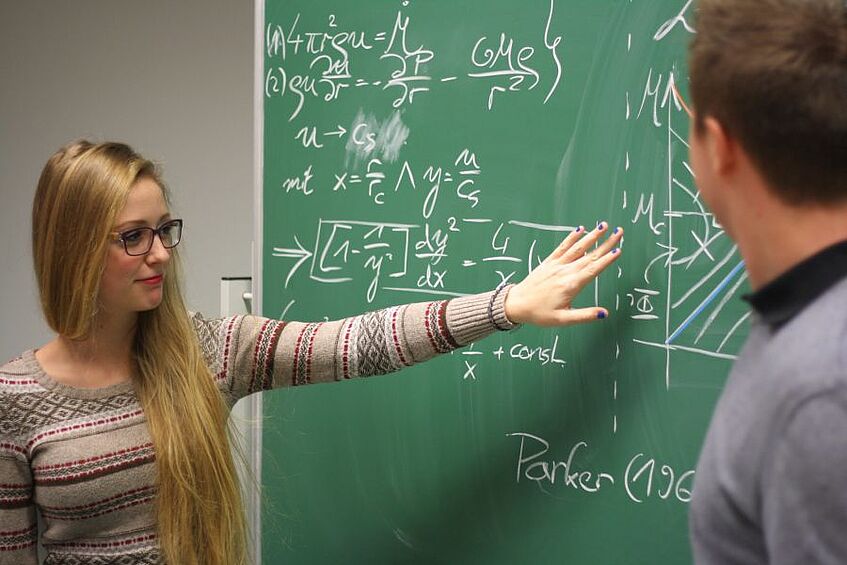 The bachelor's programme in Astronomy at the University of Vienna aims to provide a first-class basic academic education in the fields of astronomy, astrophysics and space research. It provides students with a solid education in natural sciences. Graduates of the bachelor's programme are well-prepared to enter professional life or continue their academic education in a master's programme. Classes are held in German and English. Therefore, students are expected to be proficient (level B2) in both languages.
Bachelor of Science
Degree Programme Code: 033 661
6 semesters / 180 ECTS credits (including 10 ECTS credits of specialisation in related Natural Sciences)
Language: German
NO entrance examination
Attention
Instruction Language German
Study programme
The skills acquired in the degree programme are in great demand in the natural sciences and technical disciplines, such as numerical modelling of complex systems, image processing, data analysis, time service, calendar studies and calculations of satellite orbits, as well as in certain areas of scientific administration. Astronomy also has a significant influence on philosophy and the development of our world-view (cosmology). Today, astronomical research is also closely linked to electronic data processing. Thus, it is important to intensively train students in the IT area.
Five concepts
which you will deal with in your studies (examples):
Astrophysics

Numerical methods

Observatory

Linear algebra

Cosmology
Overview of the programme structure & topics
Here you find the current offer of courses for this programme to gain better insight into the topics and structure. For more information please click on the respective level.
After Graduation
Graduates can pursue a career in the following areas:
participation in astronomical research, teaching and public relations

at different institutions abroad or in EU countries

at international organisations such as the European Space Agency (ESA) or the

European Southern Observatory (ESO).
The growing public interest in astronomy opens up new professional opportunities outside the academic context, such as
at public observatories

at planetariums

at adult education centres

in the area of science journalism and

at museums.
Graduates' Perspective on the Degree Programme
Graduate Survey
The University of Vienna regularly surveys graduates after the completion of their degree programmes about their experience with their degree programme and the university itself. The survey gives you insight into graduates perspectives of their studies from a subject and organizational related point of view.
Career Tracking of Graduates
The alumni tracking provides information on the career progression of the graduates of the University of Vienna and provides orientation for entry into the profession after graduation (e.g. search duration of first job, salary development and sectors in which graduates are active).