Prehistory and Historical Archaeology (Master)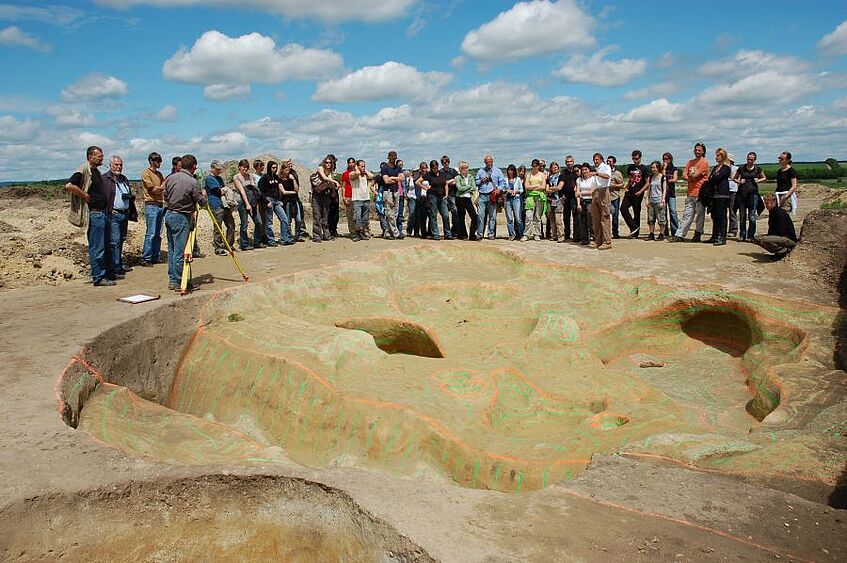 The master's programme in Prehistory and Historical Archaeology aims at equipping students with the necessary competences to participate in research projects focusing on the humanities and cultural studies. In line with the primary career prospects, the master's programme equips students with the necessary skills for a career in offices for the preservation of historical monuments, museums, research and teaching institutions, as well as universities and academies. In addition, it forms the basis for a doctoral programme in the area of prehistory and historical archaeology. Graduates of the master's programme in Prehistory and Historical Archaeology are, beyond a bachelor's programme, qualified to prepare, prospect, organise, manage and realise archaeological projects, such as excavations and research projects. In addition, they are able to independently deal with archaeological finds, write academic manuscripts and concepts in the area of public relations and cultural education, and supervise and manage archaeological monuments. This expert knowledge enables them to formulate interdisciplinary, and partially also scientific, questions for the analysis of archaeological finds. Besides knowledge of the major fields of activity in prehistory and historical archaeology, students acquire the necessary competences to deal with social, economic and cultural-political processes from the perspective of an anthropological, historic and cultural-historic discipline. The use of material sources in teaching enables graduates to develop a multi-faceted picture of history and cultural history. Graduates of this master's programme are qualified for a career in academic institutions, institutions of cultural education, publishing agencies and committees.
Master of Arts
Degree Programme Code: 066 801
4 semesters / 120 ECTS credits
Language: German
NO entrance examination
Attention
Instruction Language German
Study Programme
The master's programme in Prehistory and Historical Archaeology consists of four compulsory modules in the form of seminars: Theory and Methodology Seminar, Prehistory Seminar, Protohistory and Historical Archaeology Seminar, as well as Research Area Seminar. Moreover, it comprises the compulsory modules Applied Academic Research and Writing, Interdisciplinary Special Topics in Cultural Studies and Natural Sciences, Interdisciplinary Methods of Cultural Studies and Natural Sciences, Professional Practice (focusing on excavations, prospection, monument preservation, research and museology) and Field Trip: International Cultural Areas, as well as the alternative compulsory module on practice and specialisation (to choose from: Prospection and Landscape Archaeology, Museology and Collection Studies, as well as Archaeological Monument Preservation). To successfully complete the master's programme, students have to write a master's thesis and pass a master's examination.
Five Concepts
which you will deal with during your studies (examples):
Prehistory and historical archaeology

Landscape archaeology

Monument preservation and excavation management

Professional practice and method development

Theoretical archaeology
Overview of the programme structure & topics
Here you find the current offer of courses for this programme to gain better insight into the topics and structure. For more information please click on the respective level.
After Graduation
Graduates can pursue a career in the following areas:
academic institutions, and institutions and organisations in cultural education

publishing companies and committees

offices for the preservation of historical monuments

museums

research and teaching institutions, such as universities and academies.
Graduates' Perspective on the Degree Programme
Graduate Survey
The University of Vienna regularly surveys graduates after the completion of their degree programmes about their experience with their degree programme and the university itself. The survey gives you insight into graduates perspectives of their studies from a subject and organizational related point of view.
Career Tracking of Graduates
The alumni tracking provides information on the career progression of the graduates of the University of Vienna and provides orientation for entry into the profession after graduation (e.g. search duration of first job, salary development and sectors in which graduates are active).