Sport Science (Master)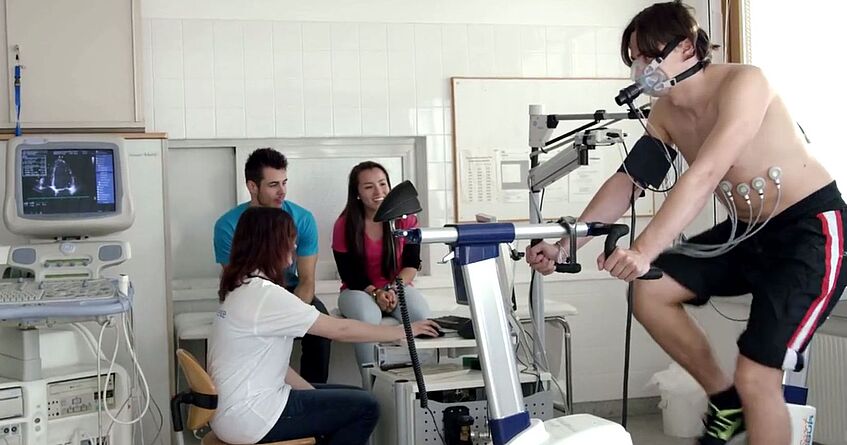 The master's programme in Sport Science equips students with the ability to apply their knowledge and competences in the scientific, technical, medical, humanistic and social scientific sub-areas of sport science in order to solve practical sports-related issues in an academically reflective manner. Students acquire academic and methodological competences in the area of basic and applied research and learn how to plan and manage workout processes, and organise measures aimed at health promotion and prevention (primary, secondary and tertiary prevention) through exercise and sports.
Attention
Instruction Language German
Getting Informed
Information on Previous Studies:
Questions about the Degree Programme:
Study Programme
The master's programme consists of modules on the following subject areas: Compulsory modules on sport organisation and sport management, diagnostics and intervention in sport science, and methods and fields of application of sport science research; as well as groups of alternative compulsory modules on training therapy, or organisation, diagnostics and intervention in mass and elite sports. In addition, students have to complete a master's seminar and pass a master's examination.
Five Concepts
which you will deal with during your studies (examples):
Diagnostics

Training therapy

Elite sports

Sports medicine

Healthcare projects
Overview of the programme structure & topics
Here you find the current offer of courses for this programme to gain better insight into the topics and structure. For more information please click on the respective level.
After Graduation
Graduates are highly qualified to promote and supervise children, adolescents and adults in mass and elite sports. They are able to identify sports-related problems in theory and practice, initiate changes in professional practice and work in coaching and management for different sports and sports sectors.
Graduates' Perspective on the Degree Programme
Graduate Survey
The University asks graduates to provide their opinion about the degree programme immediately after graduating. The survey results show how graduates evaluate the degree programme they completed from a subject-specific and organisational perspective.
The graduate survey is an important feedback tool for continuously improving the quality of studies.
Career Tracking of Graduates
The tracking of graduates provides information about the career paths of the University of Vienna graduates and aims at providing guidance for career entry after graduation (e.g. questions about the duration of job search until first employment after graduation, salary development and sectors that graduates are active in).